The body was of one Silent Marine Drill Team member. His throat slit from ear to ear.
Barney watched in amazement as Gibbs took control, giving orders as if he was still a Gunny. Tony took pics, Ziva questioned the deceased's colleagues. He saw Ducky approach.
"Ah Jethro, nice to have one so near to home for a change. A bit careless I would say, they shouldn't play with knives."
Barney looked on as Ducky went about his business and they started to clear up. He handed Tony the cap, "You keep……" He said his goodbyes. It had been interesting, but they had their work to do and he was on vacation. Gibbs promised to call. He handed the badge back and walked to Arlington.
****
The boys returned late afternoon they had been round Washington. They had seen the sights and tomorrow….
"Tomorrow is St Patricks Day and I thought we could go to Nanny's. Ok you don't have to stay all day, but come in and then go and come back later. I thought since you, Sean, can play the fiddle you could give us a medley tonight. The children are doing dancing in the afternoon and I said I would help judge. And yes……." looking at the boys "There is a nice bar-maid but she'd do one of you. I think she would be the daughter I never had. OK" beginning to laugh. "No, I said I would help."
****
Tuesday 17th March
Tuesday morning was bright and fresh. Barney packed a holdall. He caught a cab to Nannys. Colleen met him at the door.
"Barney, glad you could make it. I'm not too sure what the Boss has in mind but can you cook?"
"I was Army. If I can't cook, I'll make the sarnies" beginning to laugh at the look on her face, "Don't worry my little colleen, everything will be fine."
The doors opened officially at 12.00 but from about ten o'clock onwards there was a possession of people, coming and going. They brought food. Some for preheating. The grandmothers had fresh produce, they would be making hot meals. The children all smart in their Irish dress costumes, curious to see this real Irishman. Did he have red hair? Was he wearing green? Did he have a beard? Was he tall? Barney was almost 6 foot. He was a gentleman. He knew how to treat the children. He told them tales of banshees. Of how the little people caused mischief and how they were lucky if you saw one. He told tales of fairies, Kelpies and other mystical Irish creatures. The children were mesmerised.
The dancing and entertainment started at 12 noon. Live music, the dancing, singing, the children enjoying themselves. By late afternoon the bar began to twindle. Barney said he'd go and get changed, shower shave and be back his sons. He had to get them organised.
They returned 20.00hrs. Colleen greeted them. She was dressed in traditional costume, borrowed. She had poured the Guinness, it was resting. Sean smiled at this redhaired beauty. He now knew why his Uncle wanted him to be here. The door opened and Gibbs entered, followed by Tim and Tony. Barney bought As the groups began to assemble and do a turn. The music was Irish. Van Morrison, The Cranberries, folky stuff by the Chieftains and good old rock songs by U2. In between, the fiddlers would do a jig and the dancers danced. Sean borrowed a fiddle, Colleen danced. Everyone was having fun.
"Barney?" Gibbs asked as the music quietened, "Was wondering if you and the boys would like to go to a baseball game tomorrow. The Washington Nationals are playing the Florida Marlins, doors open 19.00.……. my treat."
"Jethro, would love to but we'll pay our own way, and I mean it. I have just decided what to get my two youngest, baseball caps."
The evening rolled on. Food was brought on. "Just give a contribution." In the old days the money would have gone to the IRA but now it went to local charities. Some said that the IRA was a charity, but not now, those days were long gone.
23.00 Gibbs and his team said goodnight, they still had a case to solve. Barney and
Seamus were not long behind. They said their goodnights to Colleen. Sean said he would stay and help clear up. Seamus and Barney smiled. Yep Sean was smitten.
"Just don't be too late coming in and don't make a noise" Seamus shouted as he left.
"Might not then." looking at Colleen who was now blushing. Yes Barney thought need to do something tomorrow.

Wednesday
They had slept well.
Over breakfast Barney asked, "What you guys doing today?"
"Thought we'd go to Baltimore, Tim's a good guy. We're getting on well. Why?" Seamus asked.
"Well I was wanting to go to Laurel Park for a couple of races. And Yessssssssss I will be back for 17.00 and washed and shaved and fed for the game tonight. And no I will not go beyond the stake. Its just I need to do something." The boys nodded. They left before noon. They dropped Barney off. "Don't worry about me I'll get a cab." he shouted as they drove off. He paid and entered. He need to see the race list for tomorrow. He put a couple of bets on he lost and then won and won. Not a lot but it mounted up. He left with money still in his pocket. He pocketed the totes for tomorrow.
City-gem ridden by Tim Penns 7/1
Collie Dove ridden by Mr Sean 10/1
He called a cab and returned to the Lodge. He placed the money in an envelope, and one of the tote tickets. He wrote her name on it. The other he placed in another and addressed it, he put the envelope with the money in the safe. He heard a knock at the door.
"Dad, we're back see you at 18.30" Seamus shouted.
****
Doors opened 19.00 Gibbs had friends who owed. They had seats above the bating area so that they could see what was going on better. Gibbs explained the rules. The atmosphere friendly, nothing like some of the football matches back home. The ball game was good. Barney had never really been into Baseball. "We called it rounders at school and in the Army" he had laughed. Gibbs acknowledged. No it was an interesting experience. What amazed the visitors was the fact you could get a drink. You couldn't do that back home, well not bringing back to your seat. The Washington Nationals won. It had been a good evening, over far too soon. As they got to the parking lot, Barney handed Tim an envelope.
"This Tim, is to cover any unexpected expenses which you have had to bear this week. I hope it's enough for your petrol. Also there s a little something there, just watch the 2.30pm race from Laurel Park tomorrow afternoon." as they said their goodbyes. "Gibbs, if you ever make it over the pond call. Tim has e-mails and numbers." They had arranged to do their own things tomorrow. It was an early start Friday to get back to Eire, and the team still had a case to crack. They wanted to do some shopping and try to get an early night. Well as early as they could, before midnight.
****

Thursday
The boys were getting later at getting up. Barney had been up, showered, had coffee and was going up town. He banged on their door, "Last day boys. If you want to do anything of importance, up now." They moaned.
He made his way up to Nanny's. Opening the door Colleen smiled, "Coffee Barney?" he nodded. It was quiet, the lunch time trade had not started. He sat at the bar. He wondered if he was doing the right thing.
"Colleen" he asked, "Please," as he handed her the envelope, "Take this. I would like to think of you as the daughter I never had. You have been great this past week and………" he looked into her eyes, "I am not trying to make a pass or anything but please, take and watch the 3.10pm race from Laurel park this afternoon." as he drank up and went to go.
"Barney?" as Colleen looked at the $500 in the envelope, and tears beginning to form. She ran to him and placed her arms round his neck, "Thank you dad." she kissed his cheek. He smiled and let her go. He went out into the spring sun. He had a lump in his throat.
****
McGee sat in his apartment looking at the tote ticket and the $100. It did cover the cost and yes he had found the boys interesting and yes, they said they would keep in touch, you know anytime you are over our way, in fact come over make a point. He had said yes maybe next year. He sat staring at the screen, the race was over. He sat staring down at the ticket. City-gem had come from nowhere and won by a nose, as they say. He was $700 better off and, he got the stake money back. Somewhere he thought he heard a giggle and if he didn't know better a small green thing had scurried off into kitchenette, he went to find it………..
She sat at the table her hands shaking. She looked down at the tote $100 on Collie Dove. She started to cry, not with sadness, with happiness, she had enough to do a bit of travel if she wanted. Sean had said keep in touch…….Oh she would. She heard a funny giggle and looked towards the door which began to close. Must have been the wind, but was it her imagination was it something green with red hair, that left.
Neither Tim nor Colleen would ever find out for sure, but all they knew was, that they had both had the luck of the Irish, even if it had been for a week.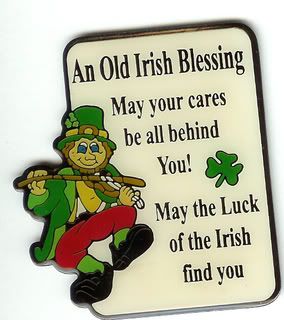 The end